180 - 200g pasta
Broccoli florets
1 chilli
1 clove garlic
2 tbsp stock
4 - 5 tbsp greek yoghurt
3 tbsp pine nuts
olive oil
black pepper
parmesan (to serve)
Here's a quick and tasty pasta hacked from a great 500 Pasta Recipes book I picked up in a remaindered bookshop years ago.
Here's what you'll need. You'll notice I didn't have as much broccoli left over this evening, so I threw in a few petit pois to make up the quantity of greens.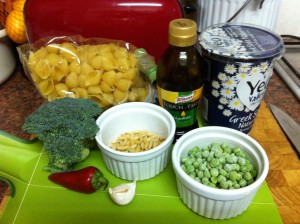 Get everything ready, thus: chop the broccoli into florets, peel the garlic, get crusher to hand, prepare stock, chop the chilli. It all comes together pretty quickly this one.
Warm two glugs of olive oil in a small pan over a low heat, and add the chilli and garlic.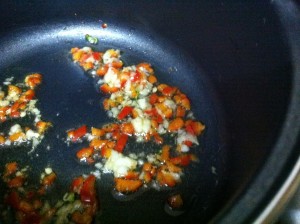 Put the pasta on to boil in salted water, with a few drops of oil, just in case that stops it sticking together. Tonight I went for conchiglie, which worked well. With six minutes to go add the brocoli florets, and, in this case, the peas.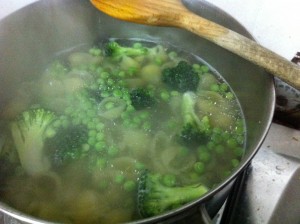 The odd thing in this recipe is the very small quantity of stock to be added – but it does make a difference. (Make sure you don't make it too weak as it's such a small amount.) Add it to the chilli and garlic, and simmer.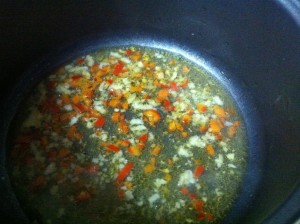 Warm the pine nuts in a pan. Keep moving them in the pan from time to time.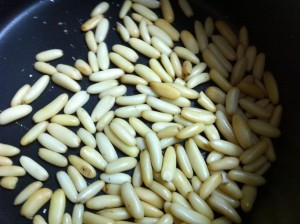 Drain the pasta and broccoli and put back into the warm pan, keep it over as low a heat as possible. Add the chilli and garlic and then the yoghurt, stir round to combine it all.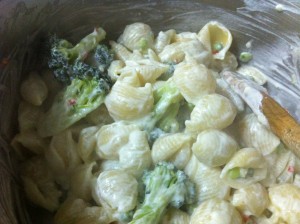 When the pine nuts are about this toasted…
…turn off the heat. Divide the pasta into two warmed bowls, and sprinkle with the pine nuts.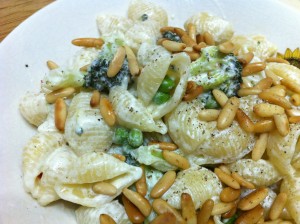 Serve with a rocket salad, parmesan shavings and, maybe, freshly baked ciabatta. And a decent Portuguese Alentejo red wine.