100g Couscous
200ml Vegetable Stock
125g Cherry Tomatoes
85g Chestnut Mushrooms
2-3 Spring onions
1 tbsp Olive oil
1-2 tbsp Green Pesto
15g handfull dry toasted pine nuts - just heat in a dry pan, shaking often, until browned.
1/2 handfull Basil, leaves torn
Another really tasty hot couscous lunch, this time of a vegetarian (not vegan variety). Make sure your pesto is veggie friendly, too. This is equally as good the day after, cold, so stick it in the fridge for a lunch when you're out of the house, or take it to a barbecue. I always take this and homemade coleslaw, falafel, and salsa/guacamole to barbeques and all the meat eaters ask for the recipes, so TAKE THAT, MEAT. Or something. Anyway, here it is, based pretty faithfully on a 101 Good Food Seasonal Salads recipe, I think.
Prep Time: 15 mins | Servings: 2
Nutritional Info: 291 kcal, 7g protein, 29g carbs, 17g fat (4g sat), 1g fibre, 0.49g salt
Ingredients: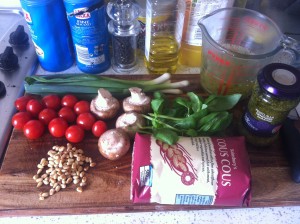 Make sure you've toasted your pine nuts before starting. Then start your couscous going by putting it in a bowl, pouring in the boiling stock, and covering.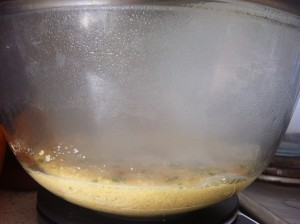 Should take about 5 minutes, which is enough time to prep all your veg, halve the tomatoes, and thinly slice the spring onions and chestnut mushrooms. Buy good tomatoes and mushrooms/onions, because this is one of those simple ingredients recipes where good ingredients make all the difference.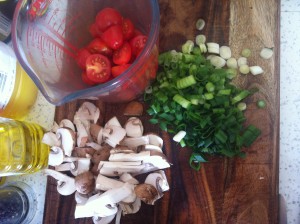 When the couscous is done, fluff up, then add the olive oil and pesto to taste.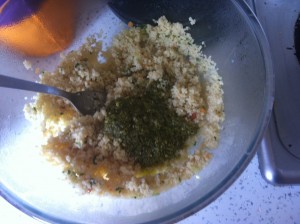 Stir through until well covered. Chuck in every thing else,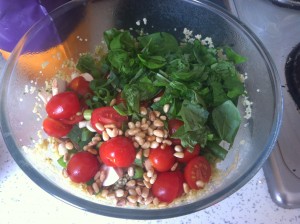 mix. Season to taste, and serve immediately, hot, or cool the same/next day as an awesome salad.