115g plain flour
1 tsp baking powder
1 large egg
25g melted butter
90ml soya milk (or semi-skimmed if you're A Normal.)
70ml honey
65g dried cranberries
95g raisins
95g dried apricots
1 tsp grated orange zest and a squeeze of juice
1/2 tsp ground cinnamon
So today I did a triathlon. That is relevant, but I also wanted to say it out loud on the internet again. My rewards to myself include the best cheese sandwich you ever did see, and a bit of baking. A nice sweet treat, which is also quite healthy, and a good snack throughout the week. I'm calling these 'storecupboard fruitburst' muffins because they're based on one that required fresh blueberries (put in 70g if you can and take 20g off the other fruit amounts) which I bet tastes ace, but didn't have, so I increased the fruit I did have. Yes I am the kind of dick who has dried cranberries and apricots in their storecupboard. ALL THE MORE FOR ME WHEN APOCALYPSE STRIKES. Maybe I should call them apocalypse muffins? You probably can't get eggs in the apocalypse, though. Need a chicken in my cupboard… Anyway I also changed the mix to make it orangier. And slightly sweeter (but I used cloudy set honey, so runny honey might solve that problem. Anyway, they're well tasty, which is the important bit.
Prep Time: 10 mins | Cook Time: 20 mins | Servings: 6 | Difficulty: Easy
Nutritional Info: 243 kcals, 5g protein, 41g carbs, 8g fat, 3g sat fat, 2g fibre, 6g sugar, 0.59g salt
Ingredients: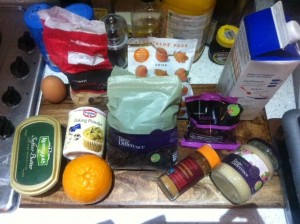 Directions:
Preheat oven to 200•c and pop some muffin cases in a tin. Sift the flour, baking powder into a bowl
In another bowl lightly beat the egg then stir in melted butter, soya milk, orange juice and honey
Combine egg & flour mixtures, and remaining ingredients, without overworking (lumps & gloopiness fine!) Spoon into muffin cases:
and bake for 20-25 mins until well risen & pale golden. Dust with icing sugar if you want to be fancy. I always want to be fancy.
Source: GoodFood 101 cakes & bakes, modified quite a lot.