200g Macadamia Nuts
200g unsalted butter
300g dark chocolate
2 free range eggs
230g caster sugar
1 tsp vanilla essense
280g sifted flour
1/2 tsp salt
a very strong espresso
200g white chocolate
GUEST POST ALERT. To continue the brilliant-recipes-from-theatre-foodies theme, here's a guest post from Alan Lane of the magnificent Slunglow. Follow him on Twitter at @slunglowalan, because a) the work they make is ace, and b) he's brilliant and funny. Alan is one of the people I interviewed for my PhD, and I was rewarded for doing so by what I can only describe as a BANQUET OF AWESOME. This was *one*, repeat, *one* of the deserts. And is possibly the best thing I've ever had in my mouth.
Guest post a-hoy-hoy:
Macadamia and white chocolate Brownies.
This is a recipe from Ottolenghi the Cookbook. I can't recommend the book enough.
Preheat the oven to 170 degrees.
Spread 200g Macadamia Nuts on an oven proof dish and roast them for 5 minutes. (Macadamia nuts are super expensive but it's worth it I promise)
Put 200g unsalted butter and 300g of dark chocolate in a heatproof bowl and place over a saucepan of simmering water and melt it. Try to avoid getting the mixture too hot. Once it's melted remove the bowl from above the water.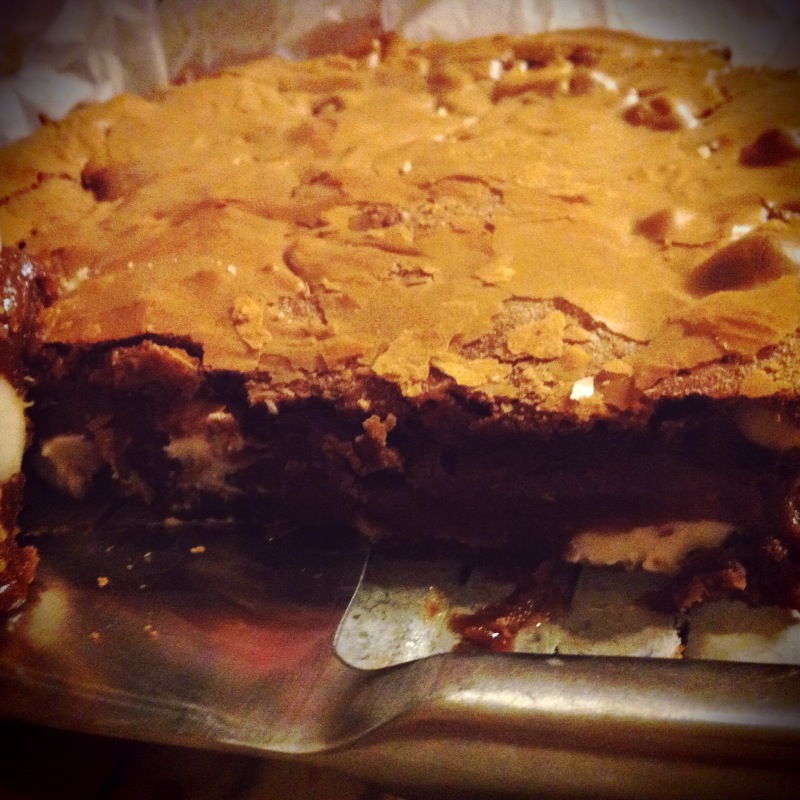 In a large bowl lightly whisk 2 free range eggs, 230 g caster sugar and 1 teaspoon vanilla essence. Fold in the melted chocolate mixture and then 280g of sifted flour and 1/2 teaspoon of salt
At this point the recipe says to add 2 teaspoon of instant coffee. But I am a proper coffee snob and I'm not going to buy instant coffee for a recipe so i make a really really strong espresso- then mix that in.
Now mix the macadamia nuts in to the mixture. Take 200g of white chocolate and smash it in to tiny little bits (you could use chocolate chips but I like smashing the chocolate up). Mix in the white chocolate.
Line a tin (22cm square baking tin says the recipe but i use whatever is to hand as I don't have one of them) with baking parchment. Pour the mixture into the tin. Bake for 25 minutes. After 25 minutes place a skewer into the brownie- it should come out with a bit of goo on it, but not too wet.
It always takes a little longer than 25 minutes for me. 45 minutes this time but i check after 25.
Once it's done allow it to cool completely. Then chop it up in to bits. I recommend small bits, brilliantly rich and decadent.