200g linguine
1 courgette
2 big handfuls of rocket
fresh basil leaves
60g vegetarian parmesan
1 lemon
olive oil
salt & pepper
This is a combination of two lemony-parmesan-linguine recipes that we have kicking around in the recipes folder – one with the courgette, one with the rocket. It's quick to make, very tasty, and this simple: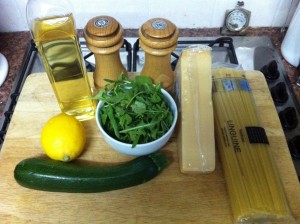 Grate the parmesan into a bowl, and then zest and juice the lemon, and add to the parmesan. Add two tbsp of the olive oil, plus some pepper:
Chop or tear a handful of the basil leaves, add to the bowl and mix it all up into a paste:
Slice the courgette into discs, no fatter than 5mm.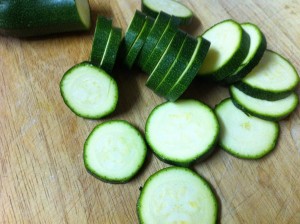 Warm two big glugs of olive oil in a frying pan, over a medium heat, then add the courgette: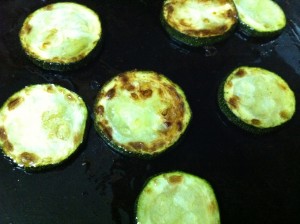 Put the linguine on to boil in a large pan of water, with a pinch of salt or dash of oil, or whatever your own pasta technique is…
Check the courgette slices. When they start to brown, flip them over. Once they are done on both sides, take them out of the pan, and place on kitchen roll to absorb the excess oil.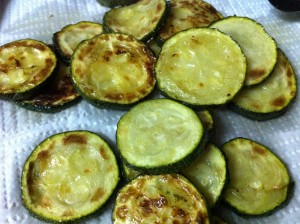 Drain the pasta and return to the pan and then combine with the parmesan "sauce" and the courgette slices.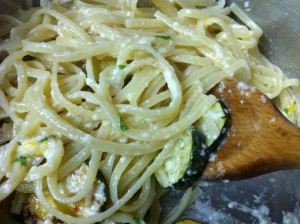 Separate the pasta into two bowls, and then add a handful of fresh rocket to each bowl to serve. (Alternatively, if you like your rocket a bit more wilted, you can add it to the pan and stir into the pasta before serving.)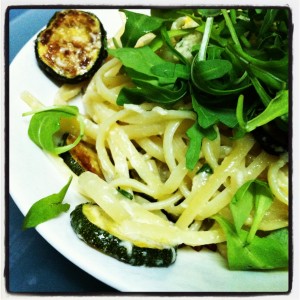 Serve with some freshly baked ciabatta, if you need more carbs, and a decent red wine – such as a Portuguese Alentejo.