1/4 tbsp extra virgin olive oil
1 clove garlic , finely chopped
1/2 small courgette, halved & then cut lenghthwise into 1/4-inch-thick strips
55g white button mushrooms thinly sliced
2 pieces sun-dried tomato cut into thin strips
50g couscous
60ml stock
half a handfull fresh basil, chopped
salt & fresh ground pepper , to taste
10g toasted pine nuts (just put them in a dry pan and heat and toss until browning)
A good, quick, hot vegan lunch this, with some really good flavours. I might also add in a stir of pesto if you were looking for a non-vegan version. (Also, if making vegan version, make sure your couscous is vegan, as it's an odd pasta variant thing). This is a fast recipe, so set the couscous going just after you've prepped the veg, so that when the veg is cooked you can combine immediately.
Prep Time: 10 | Cook Time: 10 | Servings: 1
Nutritional Info: calories: 332, fat: 12.3g, carbs: 50g, protein: 10.6g
Ingredients picture: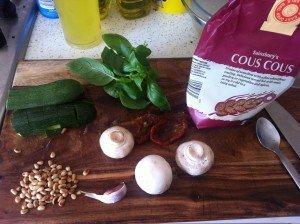 prep the veg, start the couscous, NOW! (keeping back a couple of tbsp of stock for later on)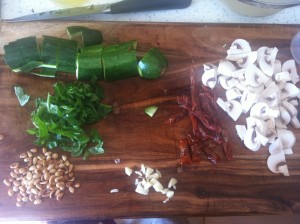 heat the oil over a medium-high heat, and add the courgette and garlic, stir for 2-3 minutes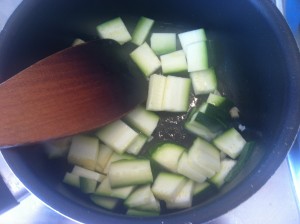 add the mushrooms, sundried tomatoes, basil and stock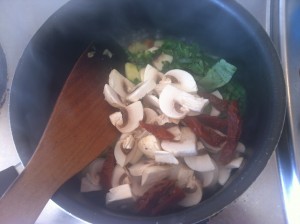 stir fry for 2-3 more minutes, until the courgettes are 'crisp-tender'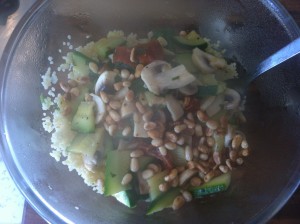 combine with the (fluffed) couscous and pine nuts, stir, season, drizzle with a tiny bit of olive oil, and serve!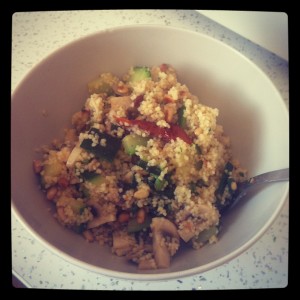 Mm.
Based on a modified version of a recipe from the Mediterranean Vegan Kitchen.