olive oil
1 onion
1 carrot
1 courgette
4 peppers (or none if you're Hannah - replace with other veg, like mushrooms)
1 (or 2) tin red kidney beans
3 tins tomatoes
3 cloves garlic
fresh basil
dried oregano
bay leaves
chilli flakes (or powder, or, y'know, an actual chilli)
Hendersons Relish
50g basmati rice per person
2 fajita wraps per person
grated cheddar
sour cream and/or guacamole
So, I grew up thinking there was only one way of making chilli – chilli the way my family made it: mince, kidney beans and carrot, mainly. I have tried making it with TVP, veggie mince and all that, but in the end, just veg and spice is my favourite.
It kind of feels thrown together rather than a recipe, but talking about it to my friends Zoe & Lou at Christmas made me think this was worth posting. Think of it as a guide rather than a recipe. It's vegan until the grated cheese and sour cream are added later.
So, you will need: A lot of veg. It's different every time I do it, but this is a (pepper-heavy) example.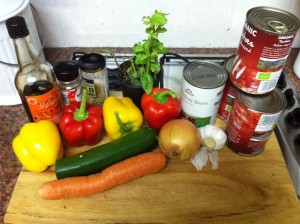 Chop everything. Rinse the kidney beans in a sieve. Put three or four tbsp of olive oil in a large non-stick pan, over a low heat.
Throw in the carrot, then the onion, then the garlic. (If using fresh chilli, chop and add now.) Sometimes I put in mustard seeds here, too.
Stir round and fry for a few minutes until the onion is softening. Then add peppers, then courgette. (If not using peppers, I'll put in more kidney beans, plus borlotti beans).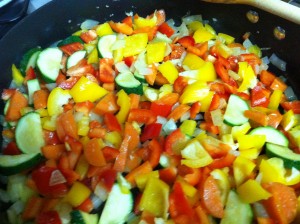 Turn up the heat, fry and stir for five minutes or so. Add the kidney beans.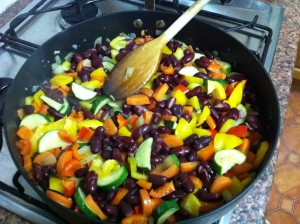 Stir/fry for another 5 minutes. Add the oregano (I use a lot, as I like oregano – probably two heaped tsps), a handful of the basil leaves, torn, two bay leaves and the tinned tomatoes.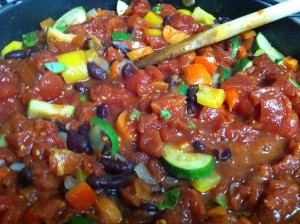 Add 4 or 5 big dashes of Henderson's Relish (or a tsp of Marmite, or a stock cube), and the dried chilli or chilli powder. How much chilli/powder – depends on how spicy you want it and how strong your chilli/powder is. On this occasion, I used this much dried, crushed chillis: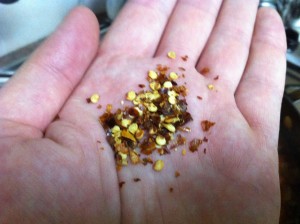 But it was a bit old, so this wasn't enough, and I added more later.
Cover, turn the heat right down, and simmer for at least 20 minutes.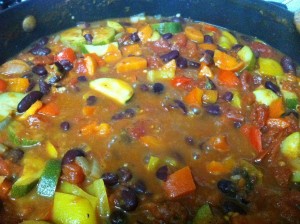 After 20 – 30 minutes, uncover and cook for another 20 – 30 minutes (stirring occasionally) to let the chilli reduce. Basically, the longer you can cook it for, the better. I  prefer to simmer for an hour covered, then uncovered for at least 30 minutes. Allowed to cool then reheated the next day – it's even better.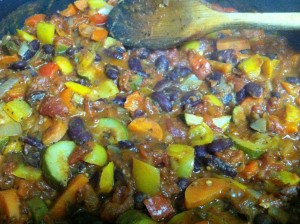 To go with it…
This is Madhur Jaffrey's rice rinsing technique, and Nigel Slater's cooking method. Weigh out the rice, then transfer to a measuring jug  – check what it is in ml. Then put the rice in a bowl (or pan). Run it under cold/luke warm water, and rub between your fingers until the water is cloudy. Drain the water and repeat the washing until the water is pretty clear. This should be 4 or 5 rinses.
Put the rice in a pan, along with double its volume in cold water. Bring the water to the boil, then turn the heat right down, cover the pan, and simmer for 12 minutes.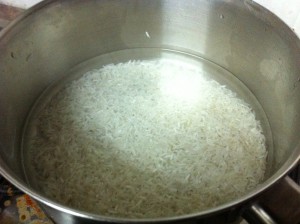 After 12 minutes, fluff the rice with a fork. If there is still water in the pan, cook for a minute or two longer, uncovered.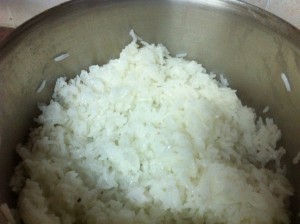 Warm the fajita wraps in a dry pan, or in the microwave, according to the instructions. Grate the cheddar, dish up the sour cream and guacamole.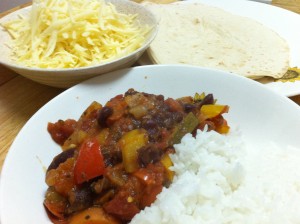 Cunningly combine like so: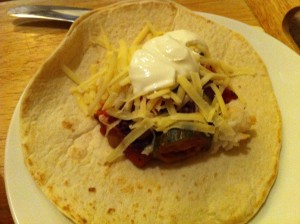 Or serve with chunks of bread, or fried potatoes, or salad. Or put in wraps, cover in cheese and bake in the oven to make it into an enchilada. Or have with chips the next day. (Yes, do that. Really.) It freezes well – I usually make far too much, then divide the leftovers into individual portions, put some in the fridge for a couple of days later, freeze the rest for the following week.
Serve with cold lager and/or a medium/full bodied red wine, preferably a Portuguese Alentejo.