1 kg strawberries, hulled, quartered
500g granulated sugar
450g jam sugar (with added pectin)
150ml lemon juice (3-4 lemon's worth)
Jam! More of it, my second ever attempt at jam and PROPER YUMMY. This is perfect for mixing in yoghurts, filling jam tarts and cakes with, or putting on hot cross buns. Here we go…
Prep Time: 10 minutes | Cook Time: depends on how quickly it gets to setting point 30-60mins |Servings: 1.5kg approx
Ingredients: (there's also ingredients for apple and blackberry jam pictured, which I cooked just before the strawberry one. Sure you can work out which fruit belongs where)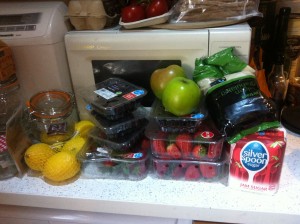 First off, prep the fruit, and squeeze the lemon juice (it should be about 150ml of lemon juice)
then mash 200g of the strawberries together with 200g of the granulated sugar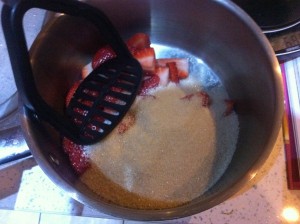 Warm this mix gently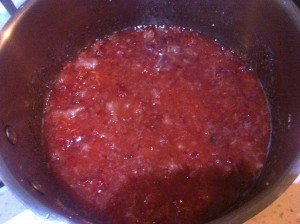 And then add the rest of the strawberries, bring this mix gently to a simmer, stirring often.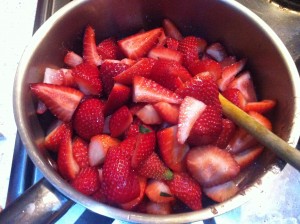 Simmer for 5 minutes to allow the fruit to just start to soften, and then add the remaining sugar and lemon juice
Bring to a rapid boil, and pop a small plate in the freezer for testing the setting point, boil rapidly for 15 minutes, then test for setting point by putting a tsp on a plate, and running your finger across the top after a minute of it cooling, if it wrinkles, it's ready to take off the boil! Keep on trying this until it's ready. It took well longer than 15 minutes, for me.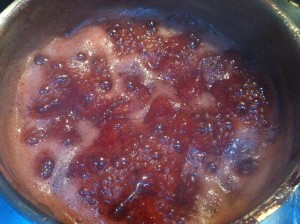 Meanwhile, sterilise your jars by cleaning in very hot soapy water, and drying in a low heat oven.
When the jam is at setting point, allow to cool for a bit, then transfer to jars, top with wax circles (wax side down!), tightly screw on the lids, and label!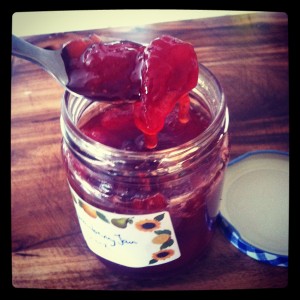 Yummy. Based on a Pam Corbin recipe from the River Cottage book of Preserves.