25g butter
1 shallots, diced
1 garlic cloves, crushed
112.5g risotto rice
300ml veg stock
1 tbsp mascarpone cheese
25g grated parmesan
1 tbsp fresh parsley (chopped)
200g asparagus blanched and halved
I've been hovering around the 'vegan' section of my new recipes recently, but today felt like something a bit creamy, with (well needed) rain outside, it being chillier than recent days, and a day full of hard thinking-type stuff meant this seemed like a good recipe. That Bumper Veggie Cookbook again. And seasonal, too, it being Spring. Here we go.
Prep Time: 10 | Cook Time: 25 | Servings: 2
Nutritional info per serving: 374 kcal, 16g fat (10g sat), 47g carbs, 1.1g salt
Ingredients:
Doing things:
blanch the asparagus for 2-4 minutes in boiling salted water, drain just before tender (they'll cook a little longer if you leave them hot after draining)
melt the butter, add the shallots and garlic and sautee until soft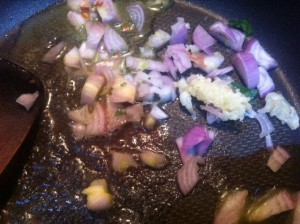 stir in the rice, cook for 1-2 mins, then add the stock, bit by bit until the rice is tender. I've doubled the amount of liquid in this recipe because I always need at least double the stock they state. I don't add any more stock cube, though, as it's already salty enough with parmesan, etc. Maybe cooking a larger amount leads to less quick evaporation? Anyway, prep lots of watery stock, and use it until the rice is tender. Not really rocket science.
Add the mascarpone, half the parmesan and half the parsley.
Stir in the asparagus and remaining parsley/parmesan.
Garnish and serve. That picture again:
Inexpert wine recommendation: Have it with Chardonnay. Little Penguin is well nice, and would probably go with it.